Description
Mark's Take
For a very long time and like many in Australia, I was not aware that Yamaha produced high-end Custom Handmade flutes. Their student and intermediate flutes have always been popular and well regarded but their high-end instruments were simply not available in this country. When I moved to Europe, I began to notice the popularity of their professional instruments and saw them in the hands of friends and colleagues who now occupy seats in world-renowned orchestras. I also found out that some of my favourite flute players were in fact, Yamaha artists. Incredible musicians such as András Adorján, Mathieu Dufour and Peter-Lukas Graf have all been playing on Yamaha flutes for decades.
It wasn't until I began studying with Andrea Lieberknecht in Munich however that I actually got to try one of these fabled instruments. As a Yamaha Artist, Andrea has worked closely with the craftspeople at Yamaha to help them design the current lineup of their top of the range instruments. She plays on a 900 Series gold flute and was kind enough to let me try it and I was promptly blown away. To say that these instruments are up there with some of the finest flutes being produced in Japan, or even the world is an understatement. At FLUTES & FLUTISTS, we are proud to be the exclusive stockist of these exceptional instruments here in Australia.
You can learn more about how Yamaha works with artists here: https://au.yamaha.com/en/products/contents/winds/artist_meets_yamaha_artisan/
---
YFL-874W
Handmade wooden flutes are suitable not just for solo and chamber music, but also for use in the modern symphony orchestra. Their remarkable tonal projection is the result of combining the state-of-the-art scale with Yamaha's unique "Type EW" headjoint, and of their specially designed toneholes – which are the same size as on metal flutes. An "Type HW" headjoint is optionally available.
Lip Plate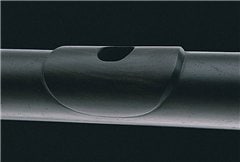 The lip plate and headjoint body are sculpted out of a single piece of fine African grenadilla for a pure, natural resonance. The surface of the lip plate is extremely comfortable and provides secure control.
Silver Tenon
A siver tenon fits the headjoint into the body, just as with a silver flute. This adds focus to the sound. It also helps to considerably reduce the weight of the flute.
Joint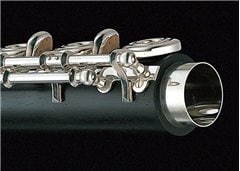 A similar silver tenon inside the footjoint connector reduces weight and prevents cracking. It also adds tonal body for improved projection. An optimal level of resonance provides a wide dynamic range with the volume and presence needed for performing in professional orchestras.
Keys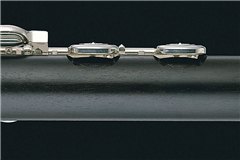 The tone holes are precision-crafted of inset grenadilla which allows wider sized holes like those of metal flutes. This is another factor contributing to the flute's accurate intonation and tonal clarity.